ISGK Screw Press
ISGK-A is a FULLY AUTOMATIC Continuous Screw press, unique mechanical features generates efficient dewatering performances for municipal and industrial waste water sludge.
Equipment Advantages:
High Performance Type with Low Power Consumption
- The electric motor for the main drive is of an energy-saving design. Compared with other dehydrators it has a big advantage in electric consumption
Compact Design and Easy maintenance
- Light weight and simple structure results in easy operation and maintenance
No Vibration or Noise
- The rotation speed of screw shaft is normally 0.1- 2 rpm. Therefore no noise or vibration is generated and a good operating environment can be maintained.
Metallic Screen, not Filter Cloth
- Metallic Screen filter provides for a stably operation without frequent filter replacement
Mechanism: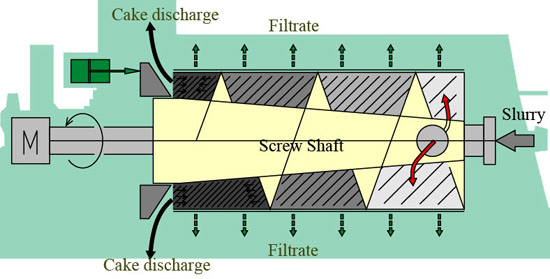 Applications:
- Sewage sludge treatment
- Industrial waste sludge treatment
- Sedimentation sludge treatment